LASER CUT JEWELRY BOX
WINTER 2018
As my wife and I were getting married in March 2019, I wanted to make something special for her. This project took 72+ hours, with the majority of the time being taken in making the plans themselves. The box has a cherry blossom tree wrapped around the outside, with two sandhill cranes on the lid (who coincidentally, mate for life!). There is a main compartment with 2 ring storages for wedding band and engagement, a main drawer with hooks for necklaces, and a third drawer for larger jewelry pieces like bracelets. It was made with 2 3mm birch ply pieces laminated together to create the 2 leveled look. Laser it was cut on was 100mm.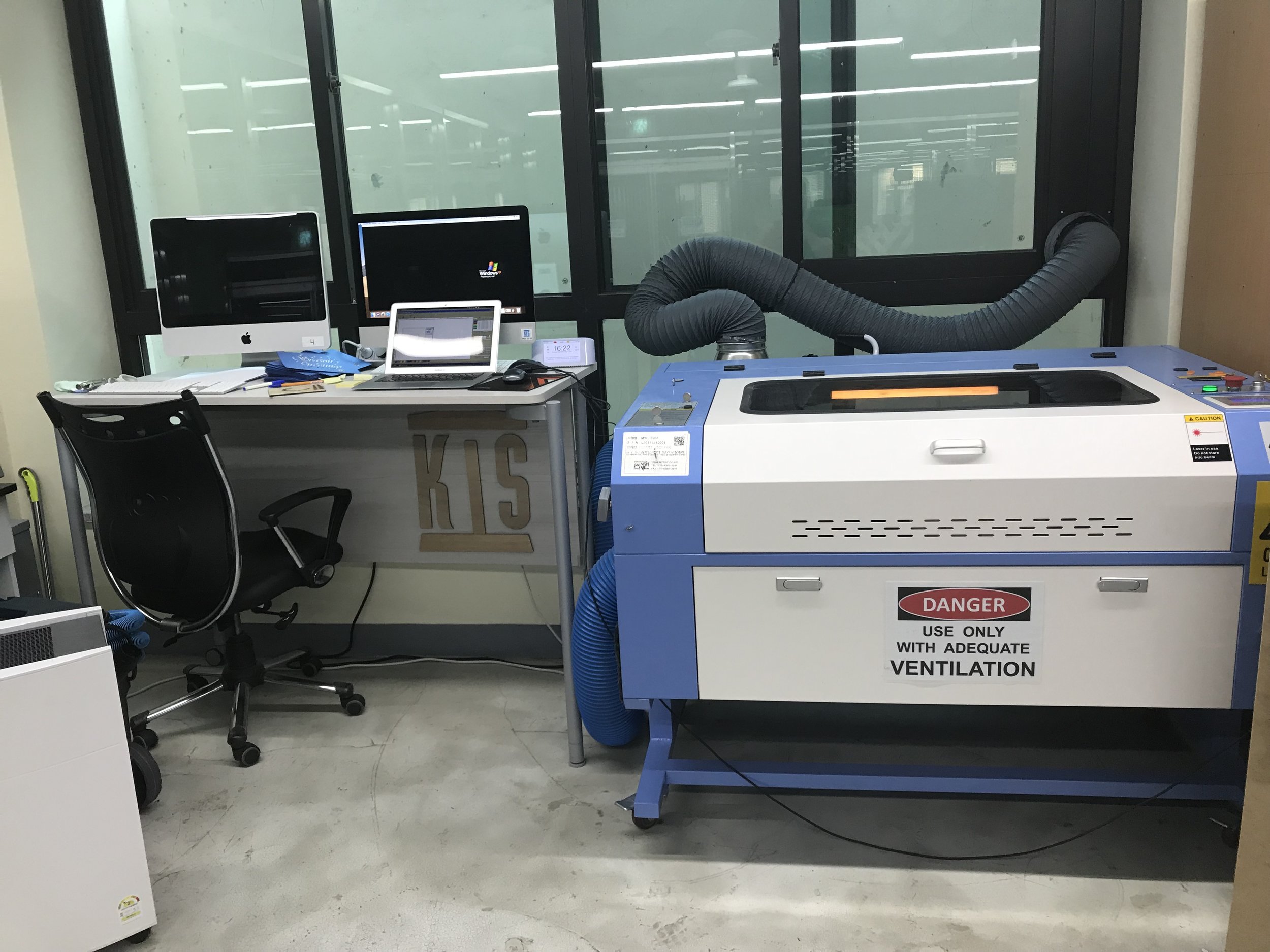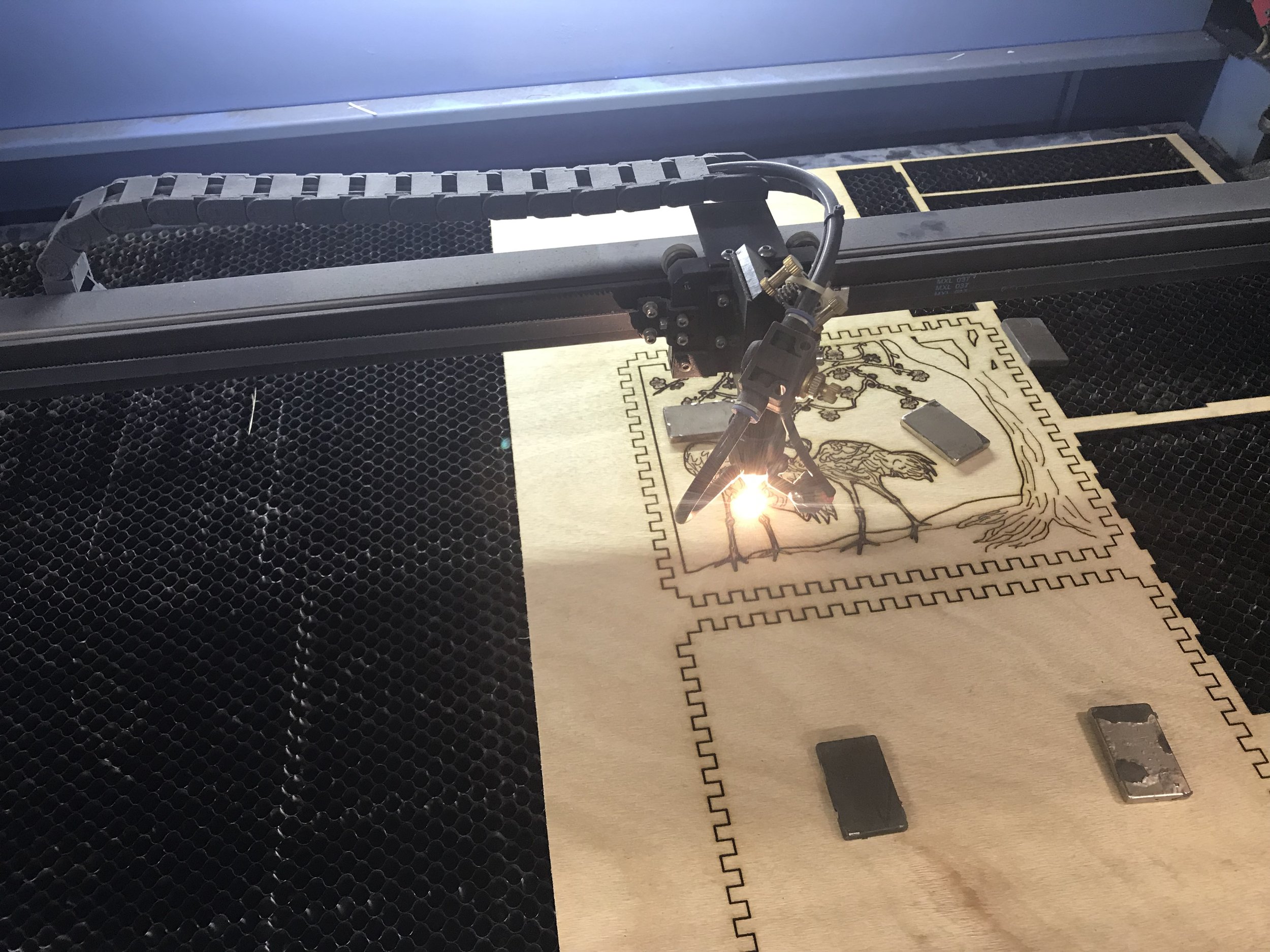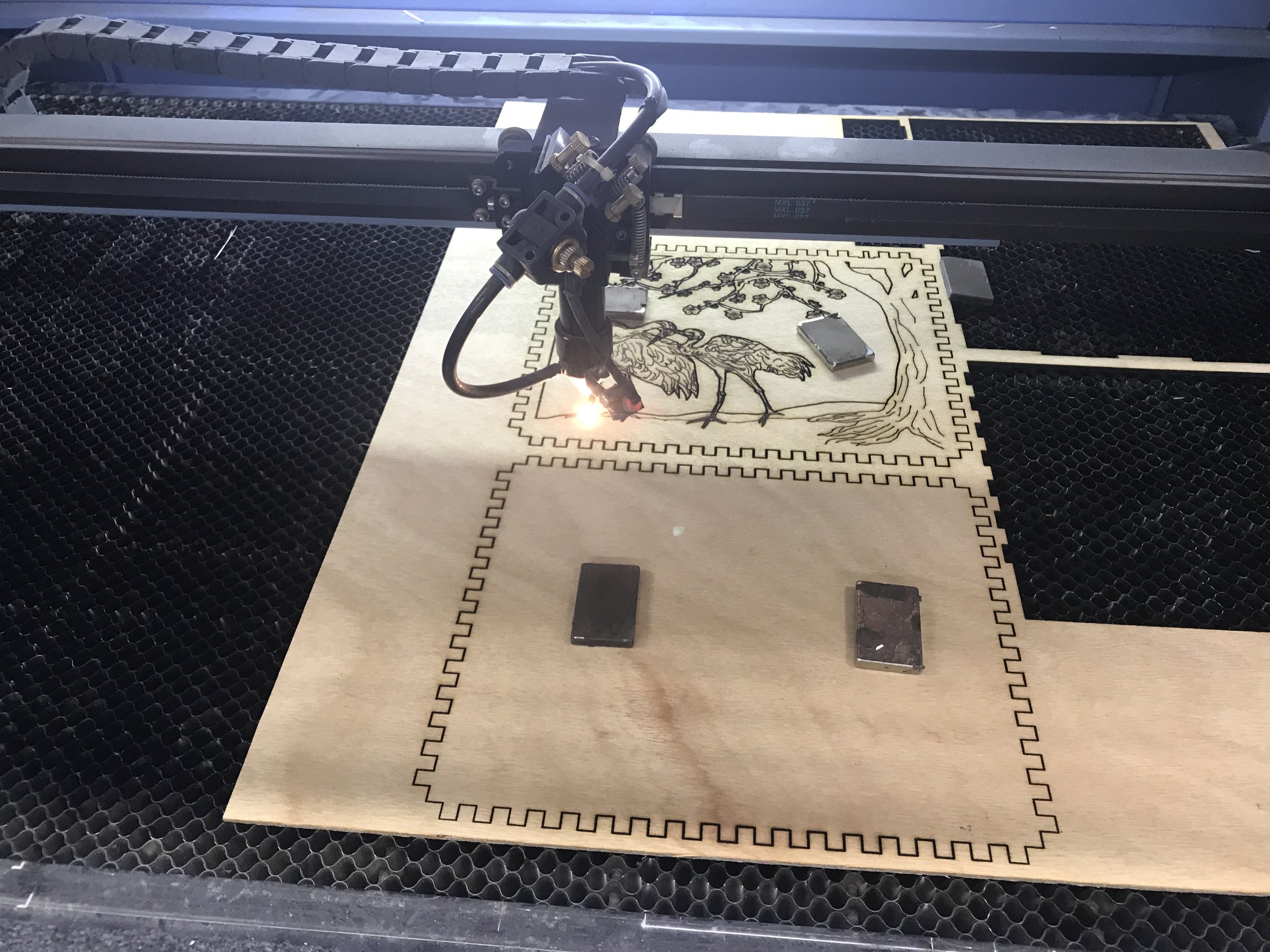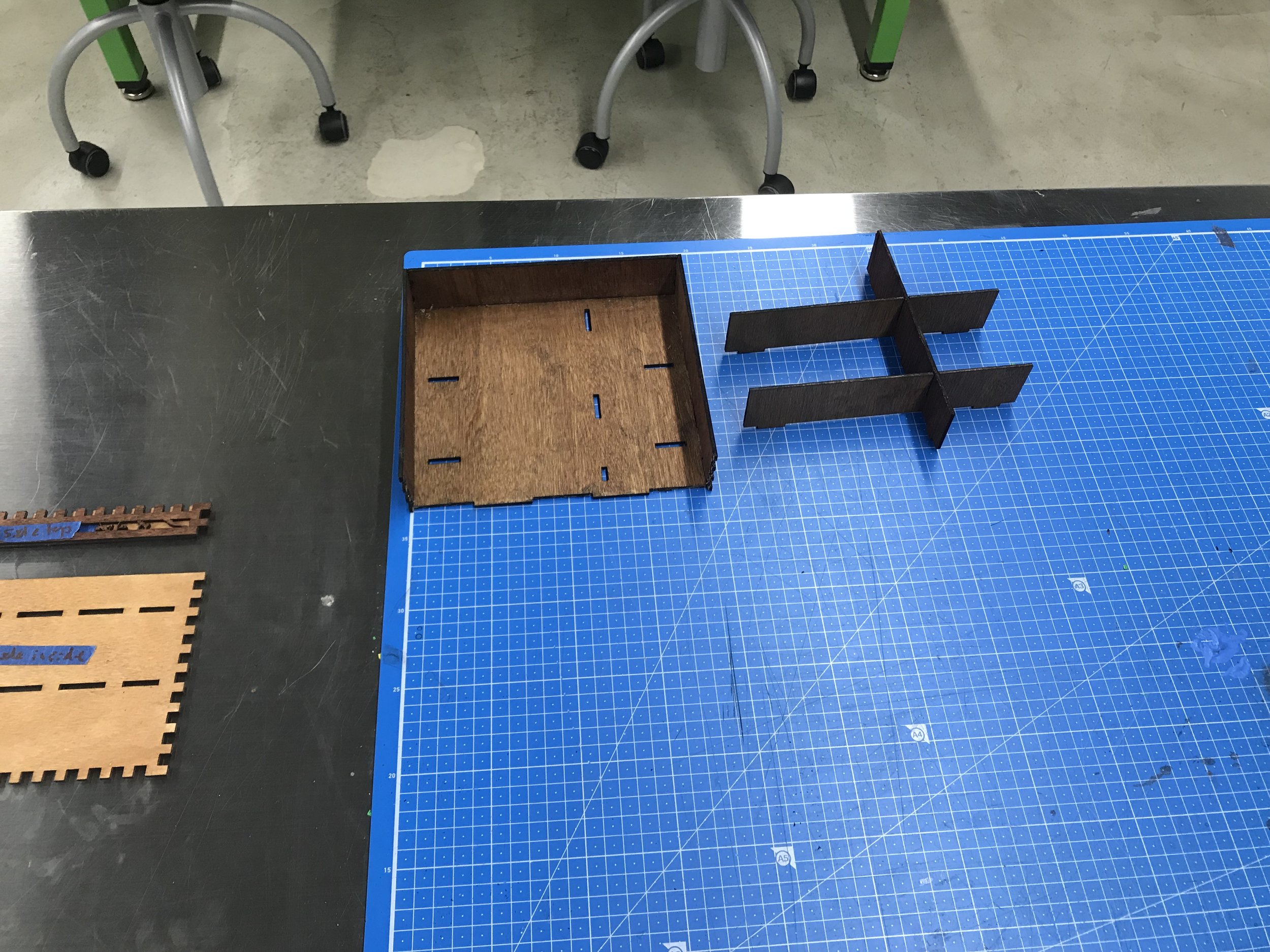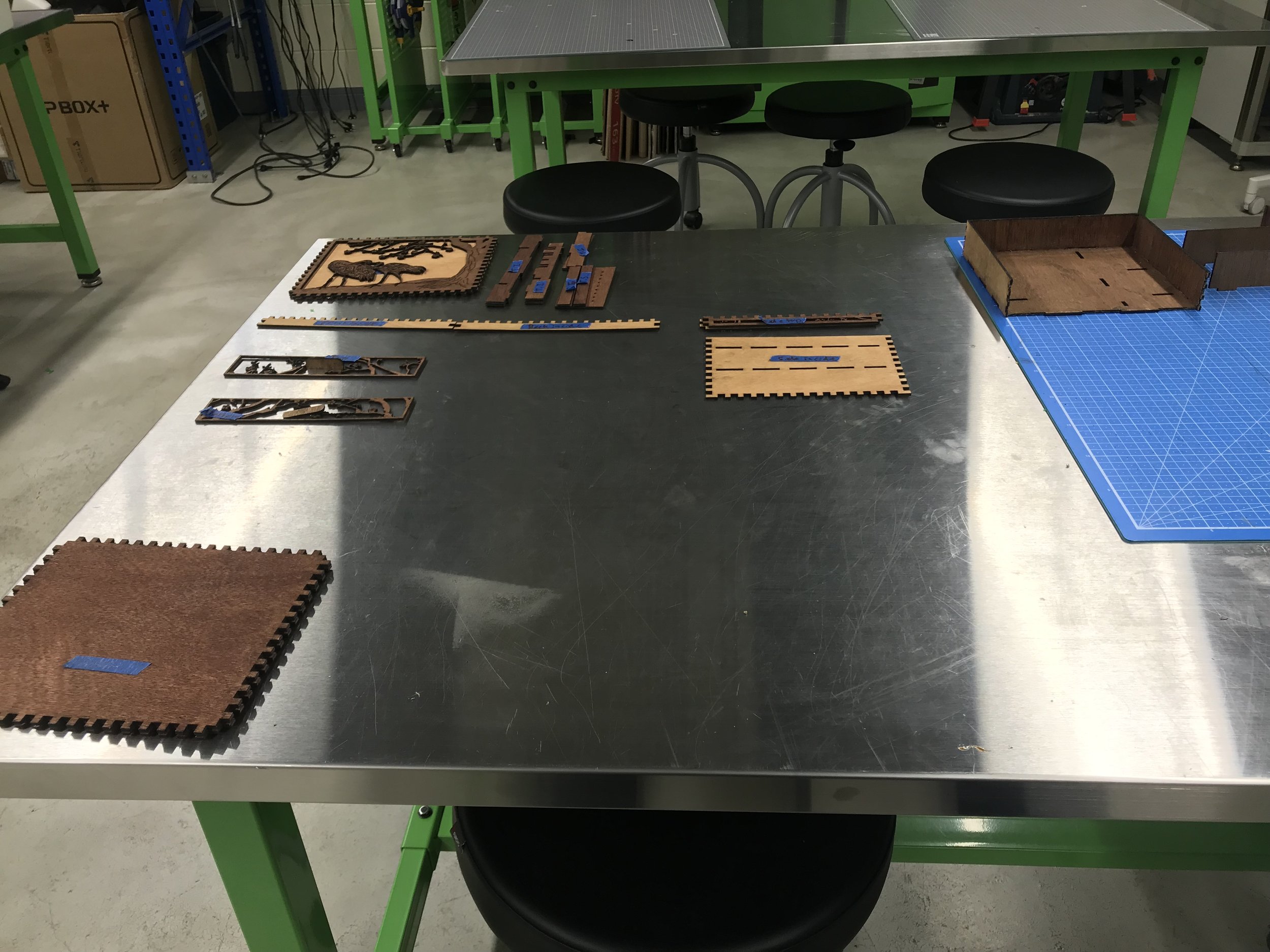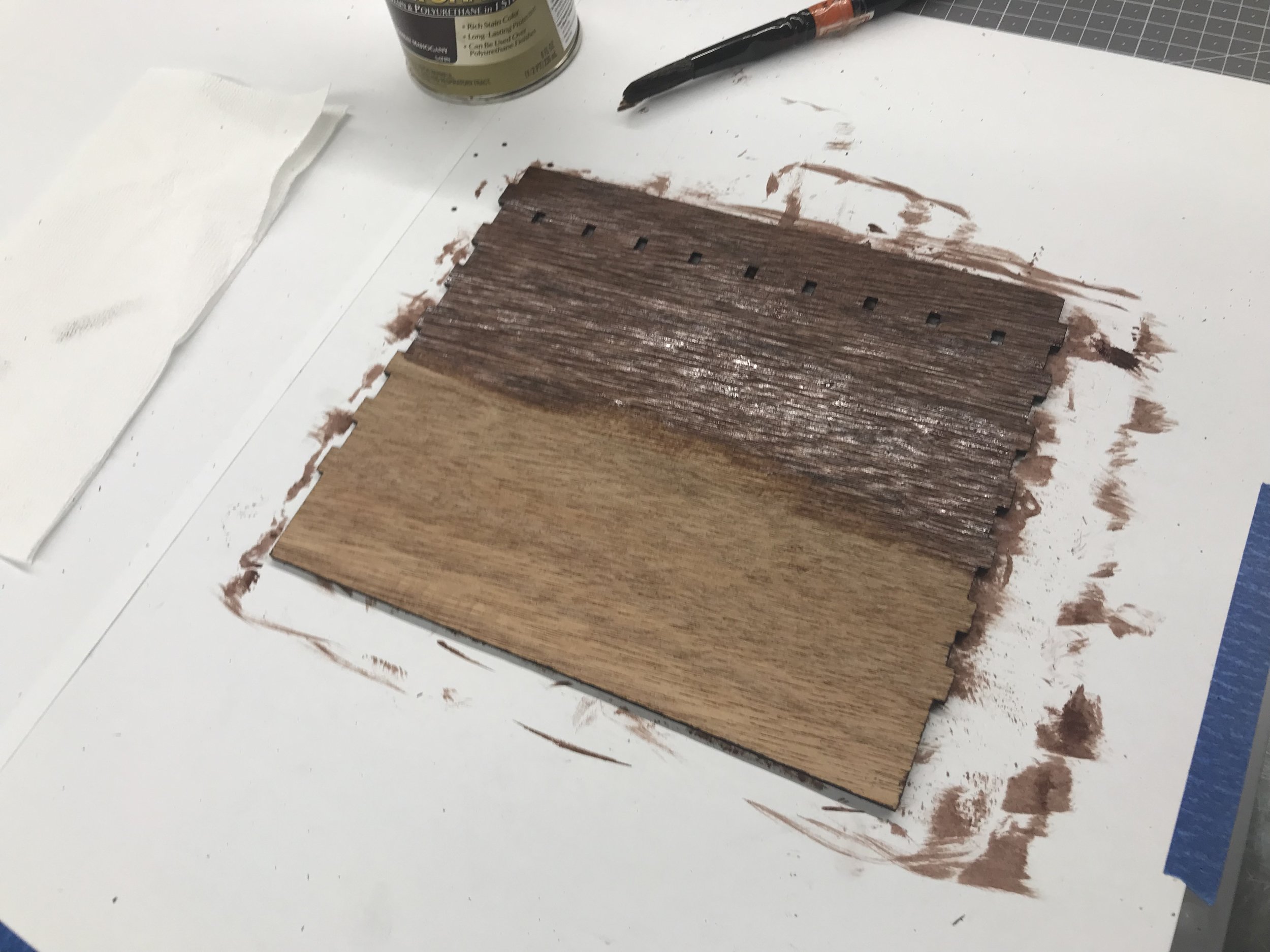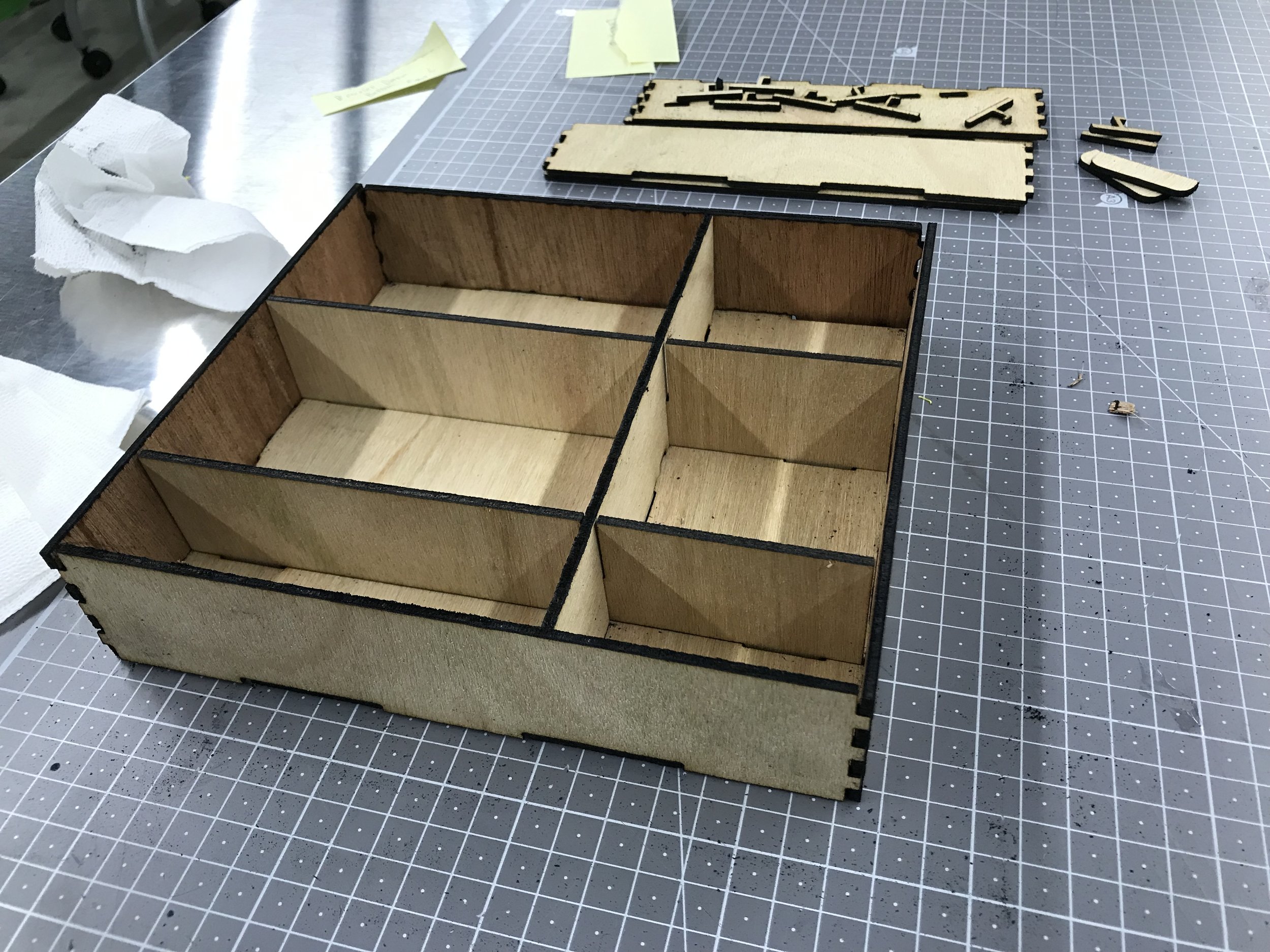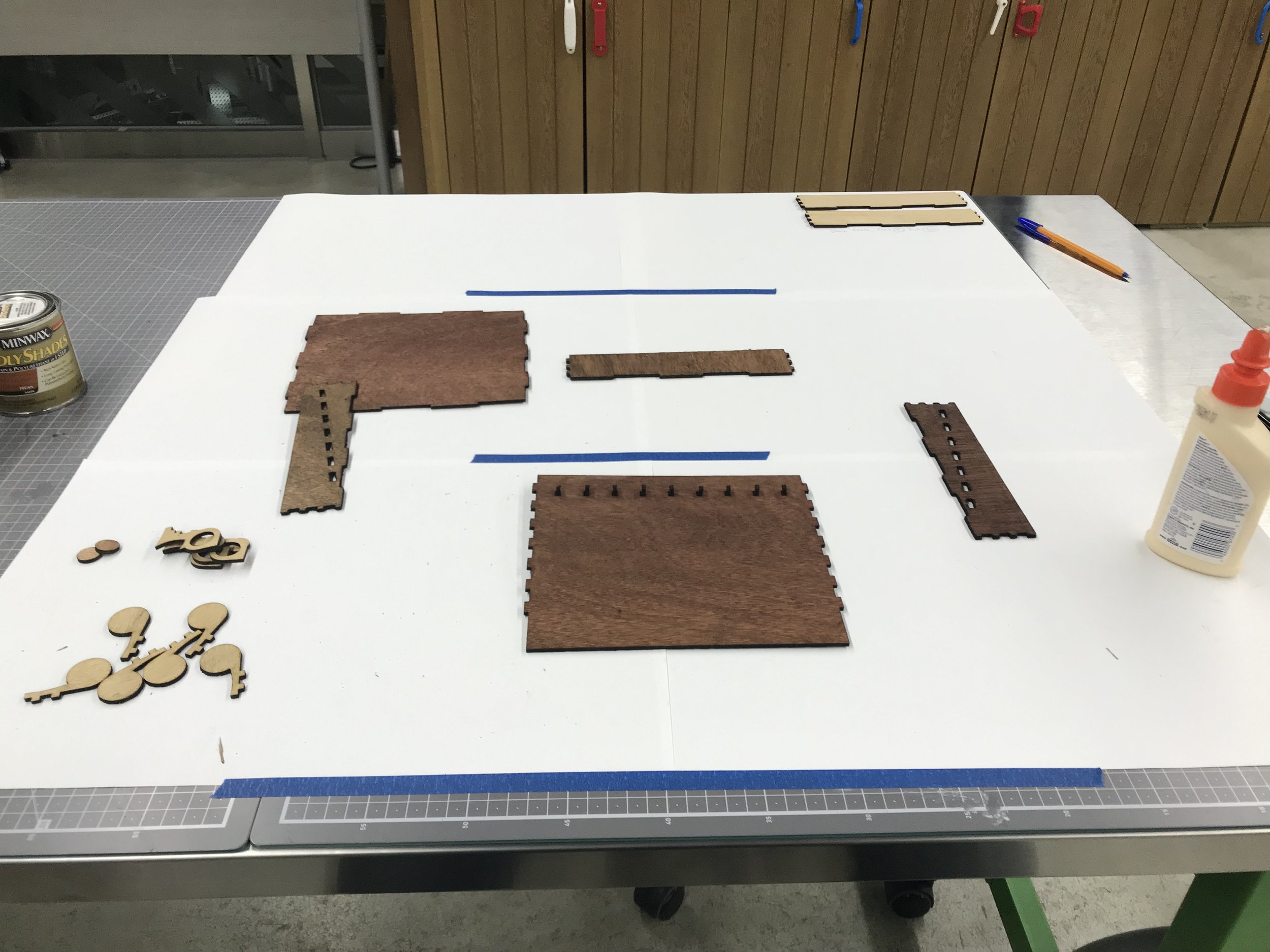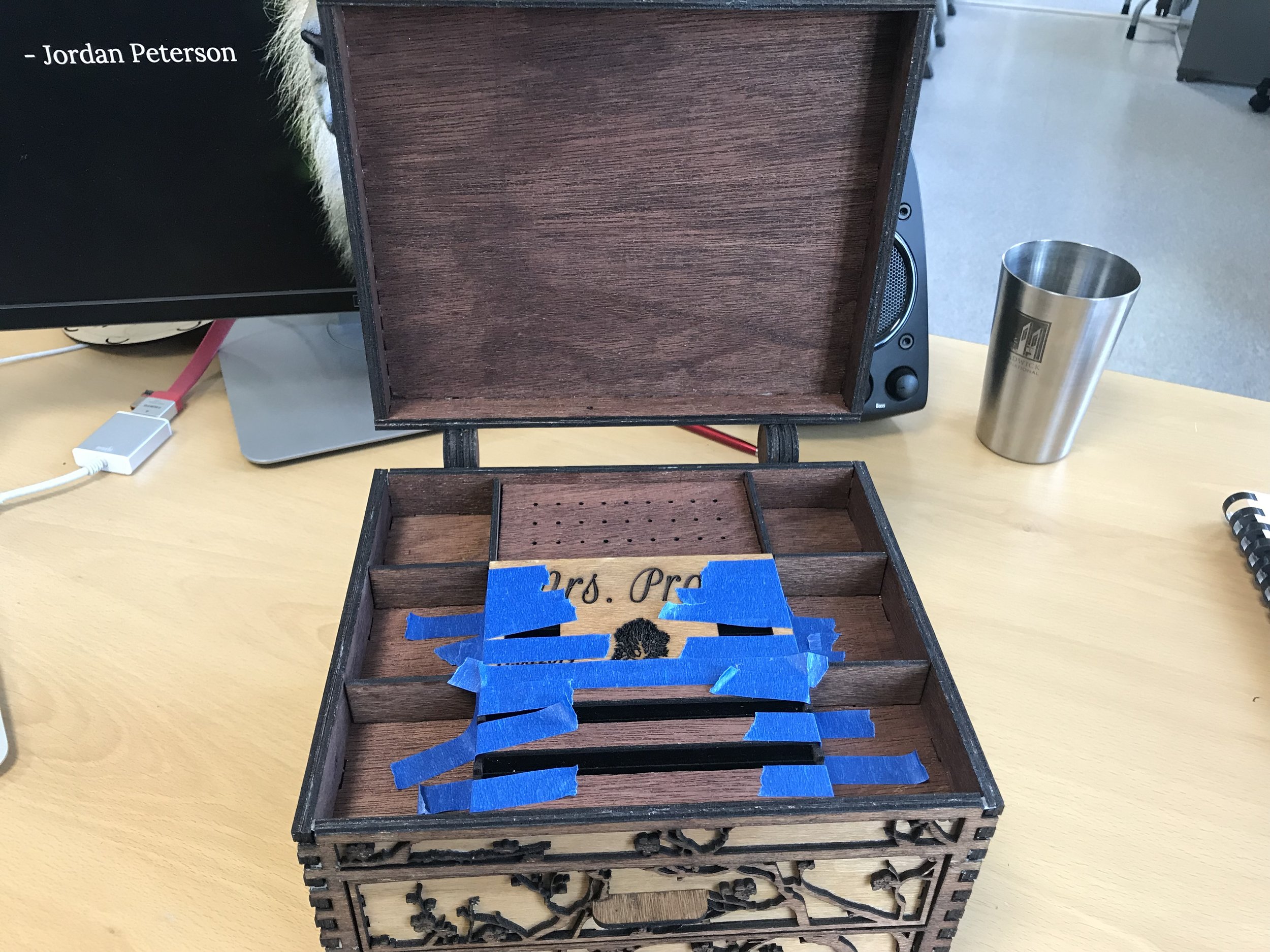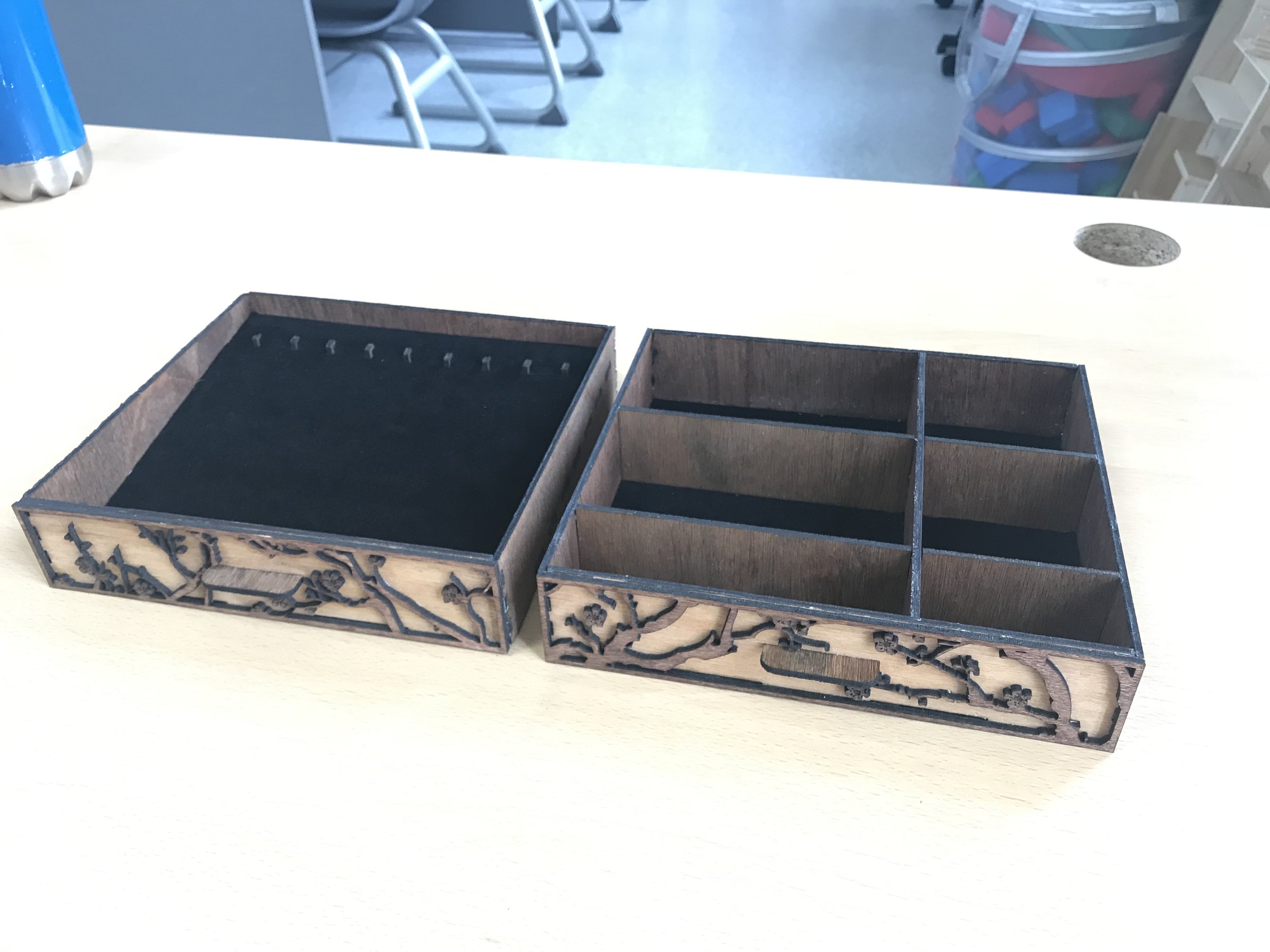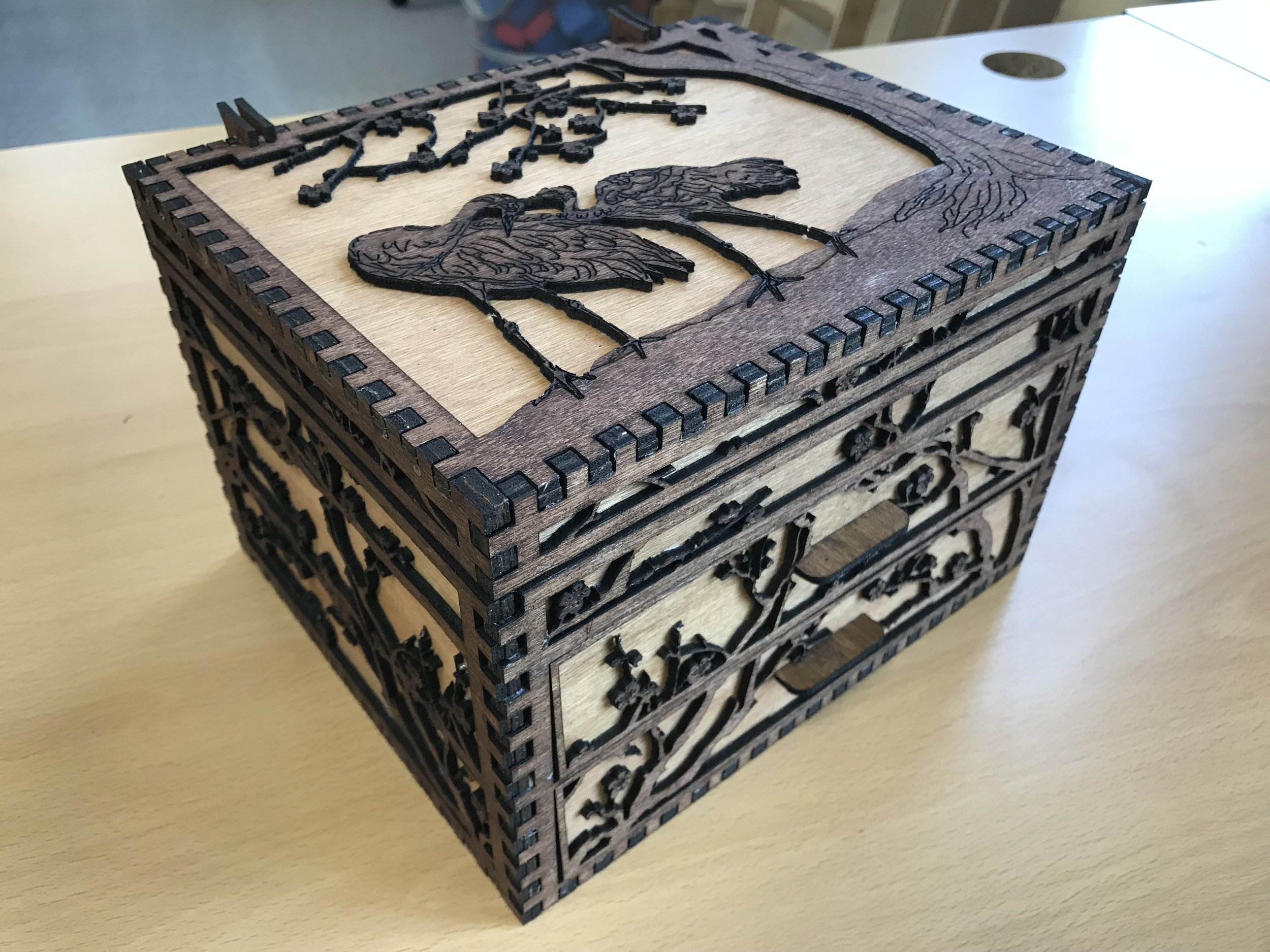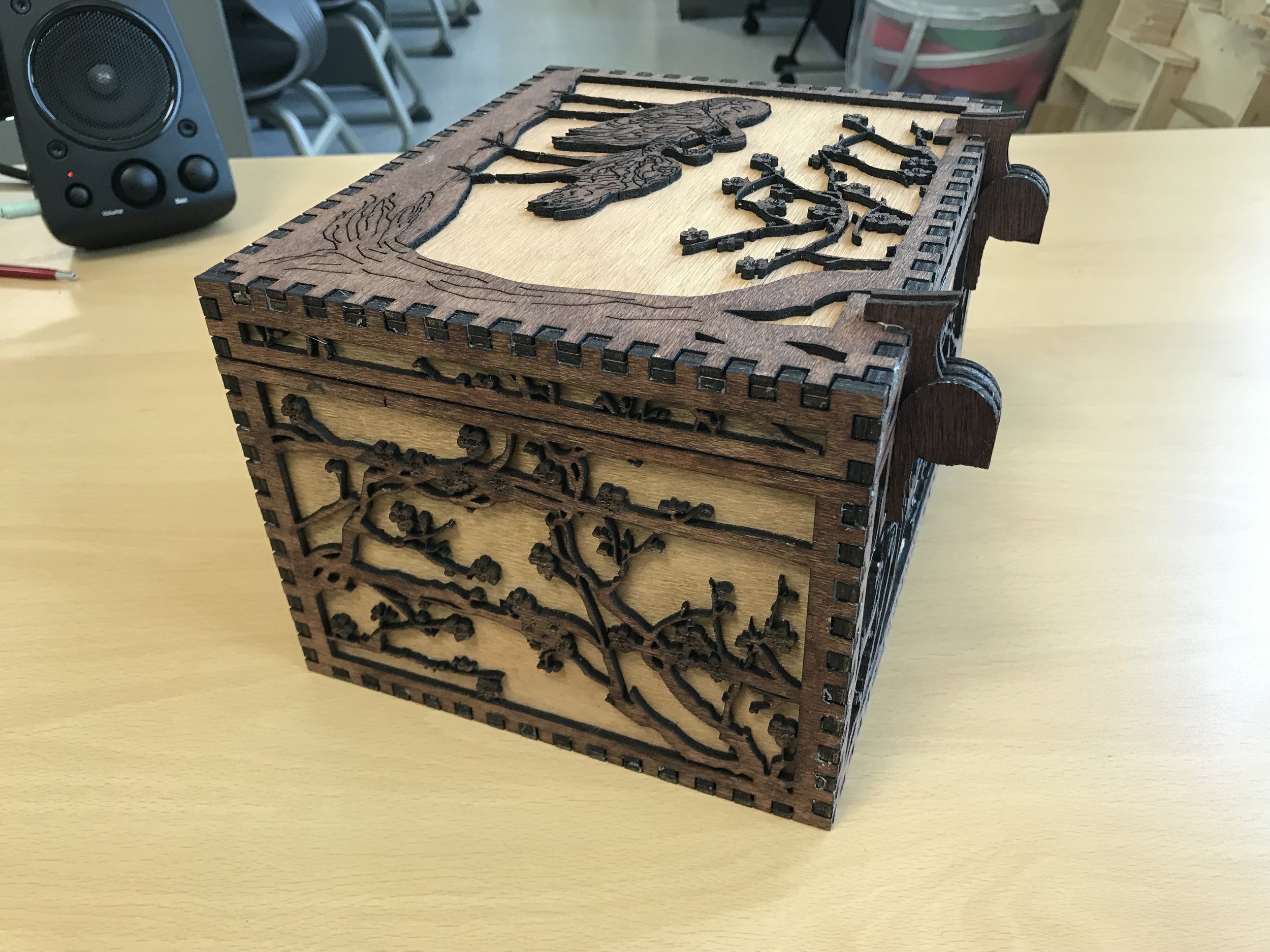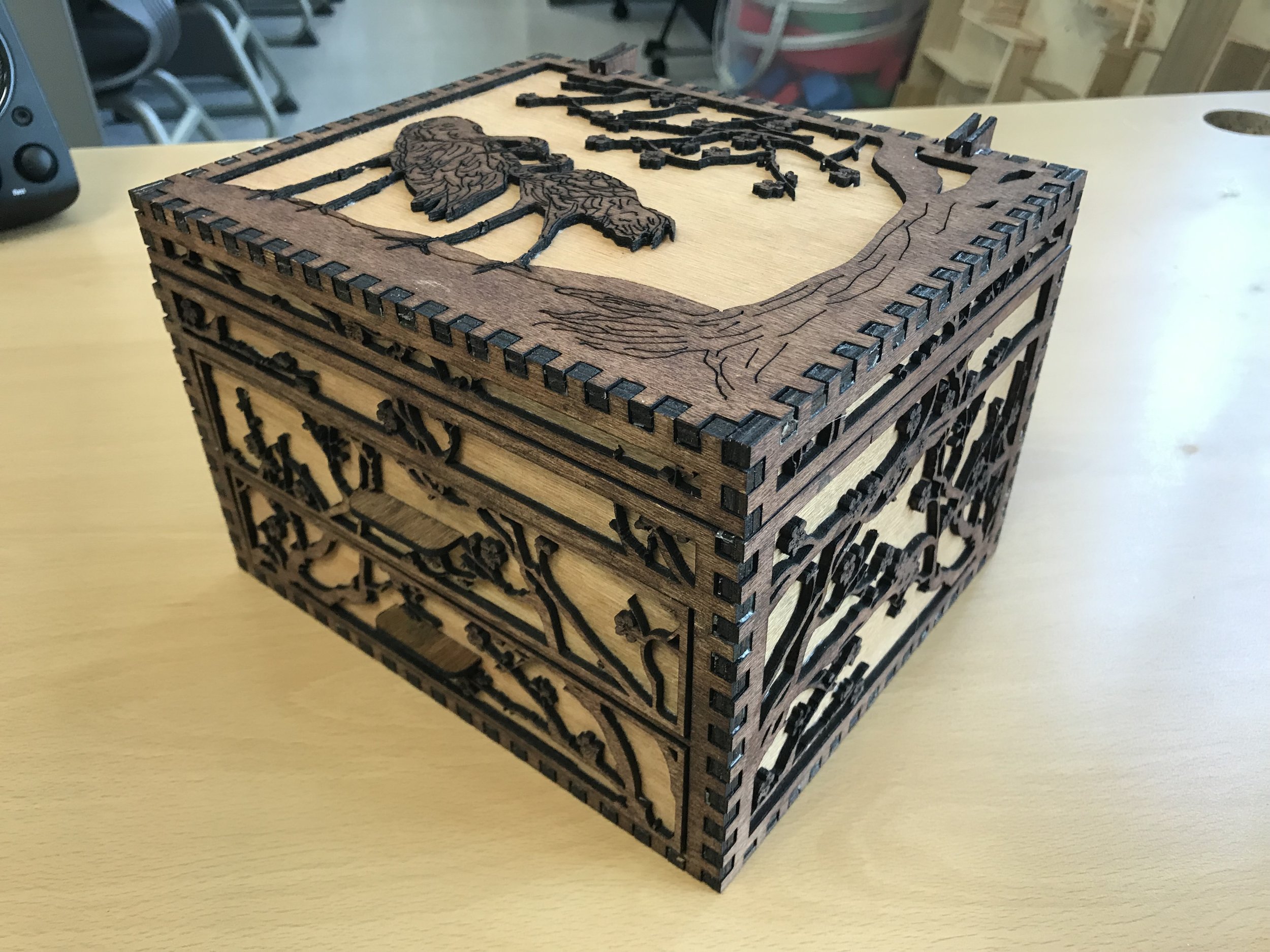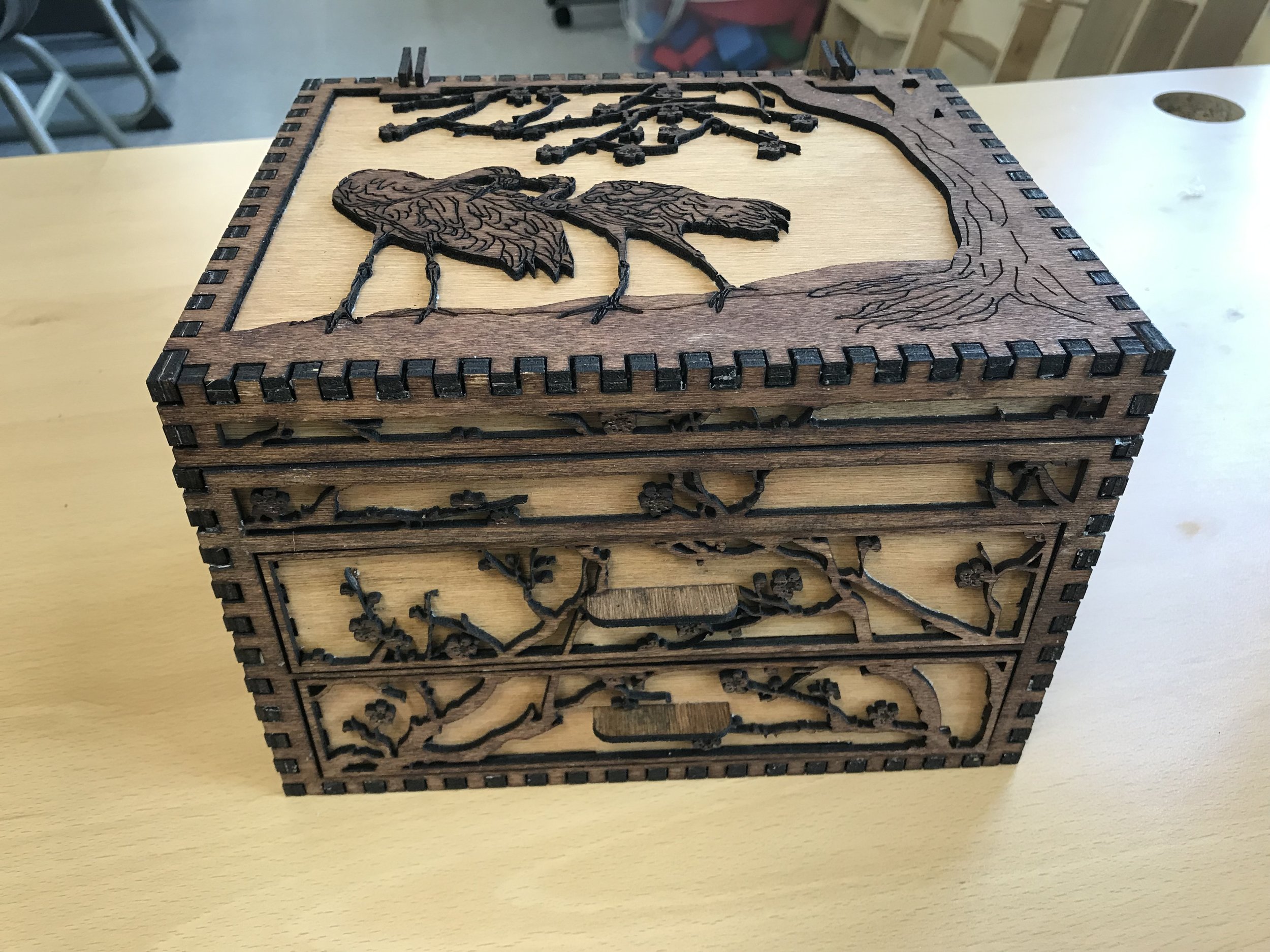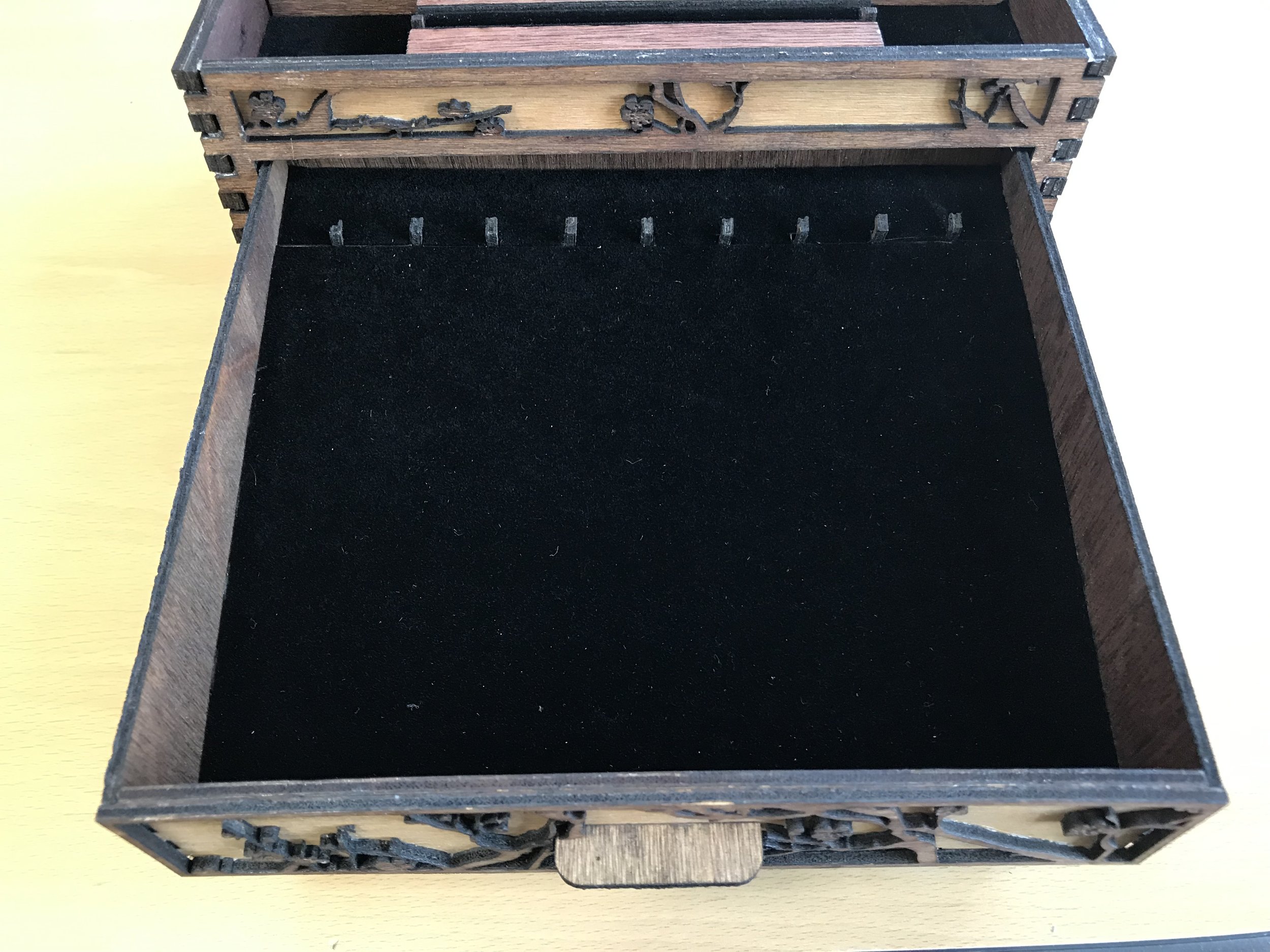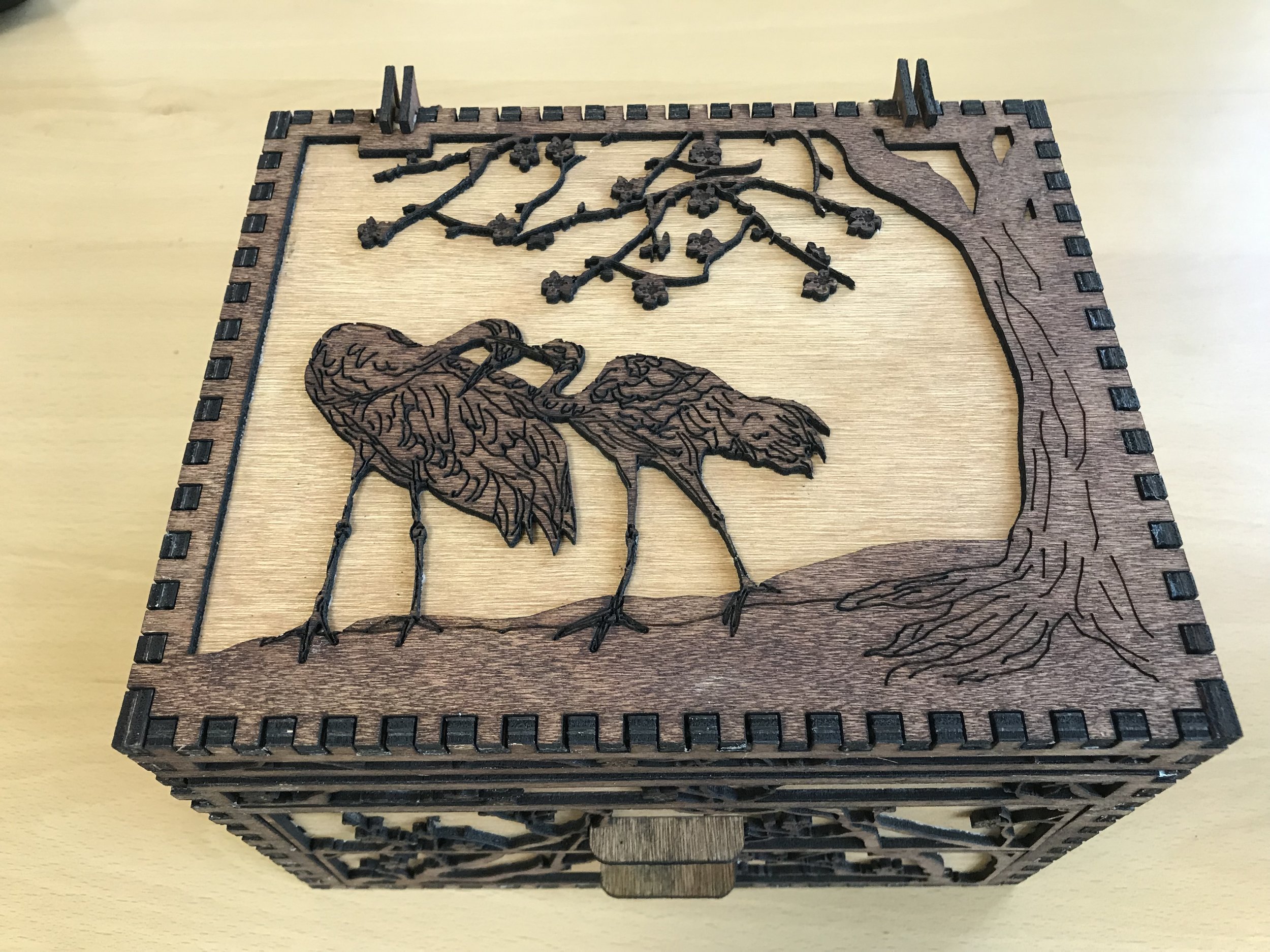 Below are plans made in AutoCAD for a laser cutter if you'd like to cut your own.
In july 2018, my then fiancee', (now wife as of March 2019) and I were headed off to Korea for our first international teaching job. Seeing as we were shipping off most of our lives in seven hockey bags and a few backpacks, we obviously could not bring any large pieces of art with us (at least without significant financial strain, that we were not presently in the stage to take on).
We wanted to be able to bring a small portion of home with us to Korea, so inspired by our tattoos, as well as the low-poly art that I've seen in the past, we decided to create a piece of art that would fit in a suitcase.
Below is a video tutorial I made on how to create low-poly art. While the tutorial uses Google drawings, my wife and I used Adobe Illustrator for the images below.
The images we ended up making are below, as well as some of the process photos. If you'd like to download these, feel free, but know that you will need to scale the image into a size that fits your final piece. The process was as follows:
Create low-poly art following video steps above

Scale the image to real size, print out, use spray adhesive onto 1/4 Good 1 side birch plywood

Using a jigsaw, scroll saw, bandsaw, cut out pieces & paint with acrylic

glue final pieces onto final board. Stain finished product.
ENGAGEMENT RING
March 2018
Below this, I have a how-to process for doing lost-wax casting. I learnt how to be able to make this engagement ring for my Fiancee. Hand carved pattern, polished myself, cast as well. The only thing I didn't do was set the stone as I didn't have the tools required to set the 1.5 carat stone.
The gold that was used to make the ring was from my mother's engagement ring that my father also designed/cast for her. I had no idea prior to my decision to make her ring that my father had also forged my mother's ring, so the gold inside Haley's ring also tells a further special story.
LOST-WAX CAST PENDANT
December 2017
I've been a carpenter for years, recently learned how to MIG weld, and now I'm talking my hand into silver-smithing. Since I didn't want to break the bank, I researched how to silver smith cast as cheaply as possible and I found this tutorial online:
Here is my first ever try at silver smithing. The whole process took my about 18h in research, trial and error, and the final casting.
Huge shoutout to Don Norris for teaching me how to do this. I found that there wasn't a great video of how to steam cast online so I've created a timelapse to teach you how (as well as for you to watch my first attempt at this).
BUSHCRAFT BENCH
SUMMER 2017
I've never done "bushcraft" before, so I figured I'd give it a shot. Essentially, you build furniture using only an axe or knife and tools you make in the forest. I decided to make a bench from a downed birch tree. First I made a crude mallet and wedges for assistance, cut off a bench portion with my kukri, split the log with stones/wooden wedges (with the aid of the kukri). Finally, I used the kukri to plane down the bench to make a smooth sitting surface once it was nestled onto 2 logs.
MIG WELDED OAK COFFEE TABLE
Summer 2017
While I have done extensive work in the past with carpentry, I've never known how to weld. I know now. Below are some photos of partially finished and finished products of a coffee table in a vintage industrial style. Solid oak laminate center with a 1.5inch square steel tubing. The "blued" corners were left intentionally. The Oak was salvaged from old cabinets after a Sage store was torn down, and the steel was purchased through a supplier.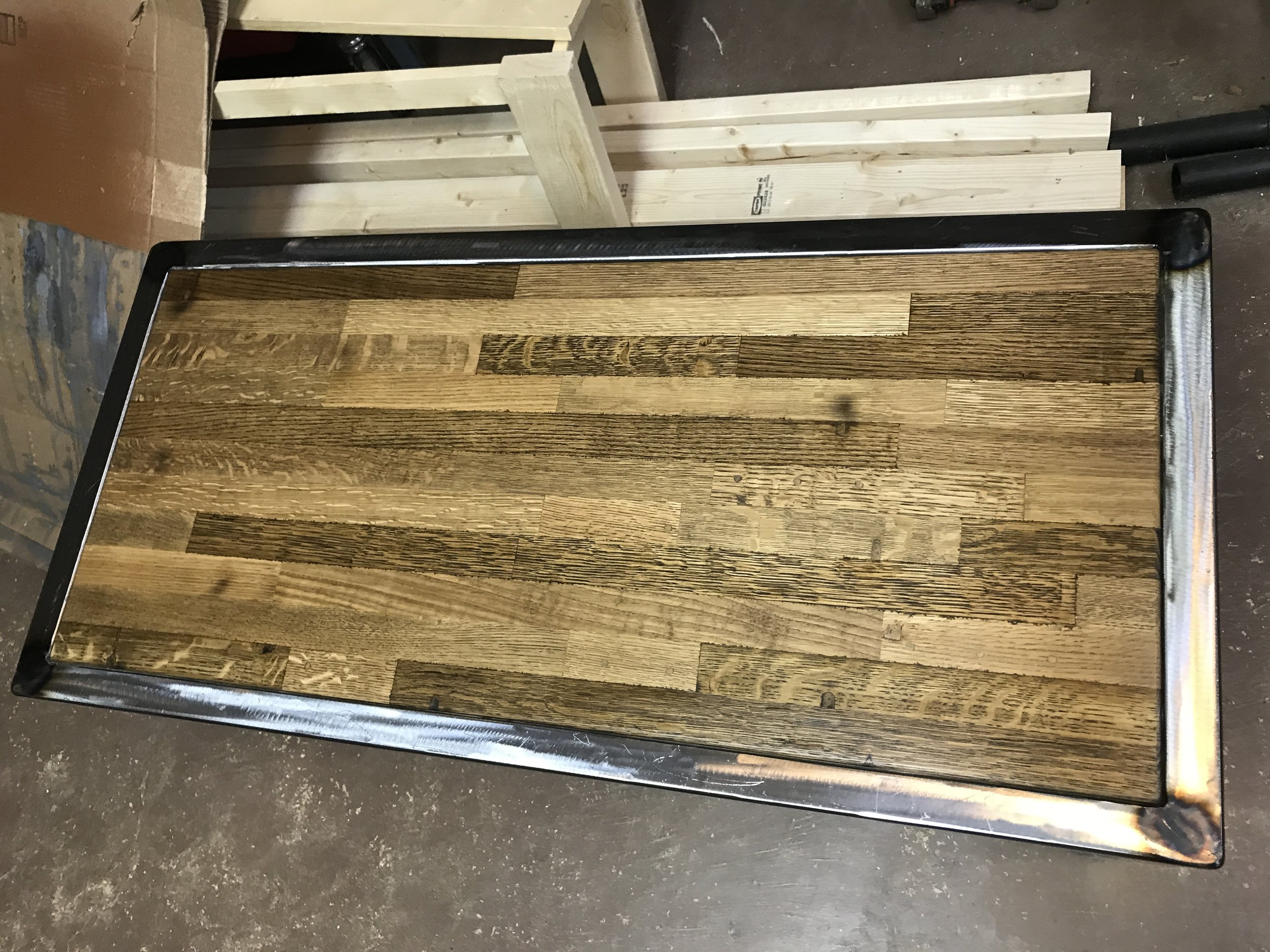 IGLOO
Winter 2016
You're not truly a Canadian unless you've made an igloo, right? This took us about 2h to make, using a mop bucket as a frame. Essentially, you start an igloo with a small, angled piece, building up a slant until you have a full size piece. Once you've done that, start building in a circle, slowing building inwards as you go, and packing the gaps with snow.
These things are amazingly sound deadening, as well as insulating! Bonus 10ft snowman with wife for scale.
MAKING A FLOATING BED
Fall 2016
Bed frames are incredibly expensive! It's insane what they want to a floating bed. So I decided to make my own. No headboard yet, that's in the future for a project, but presently I have the frame itself made out of 2x4, 2x6, and 3/4 plywood. A floating bed "works" by having the frame sit on top of a small box that's been blacked out so your eye doesn't catch it. This bed frame was made in vintage industrial style so it has been intentionally beat up to give the desired look.
The plans below are not mine, they were taken from the HowToSpecialist.