Coursework Overview
My weekend retreats for Environmental Education (EDUC 452) in my Bachelor of Education were genuinely transformational. This 6-week field school took us on full weekend retreats through a variety of different local parks and natural sights:
National Historic site of Fort Langley: Local history and First Nation's knowledge of the area
Lynn Canyon: Analyzing our impact on water management through Project Wet activities and environmental examination
Downtown Vancouver: Urban exploring and community mapping in downtown Vancouver's higher and lower economic areas
Burns Bog & Deas Island: Local history of burns bog and plant identification
Vancouver Landfill, Kent St. Transfer Station: Examining local waste management, recycling, and composting practices
Mossom Creek Hatchery: Looking into salmon life cycles, outdoor academic activities to share with children, and Project Wild activities
Within each sight we examined how to bring our classes through, the impacts of eurocentric views on first nations people, and how we can engage children in environmental stewardship.
PERSONAL, PROFESSIONAL, AND PHILOSOPHICAL GROWTH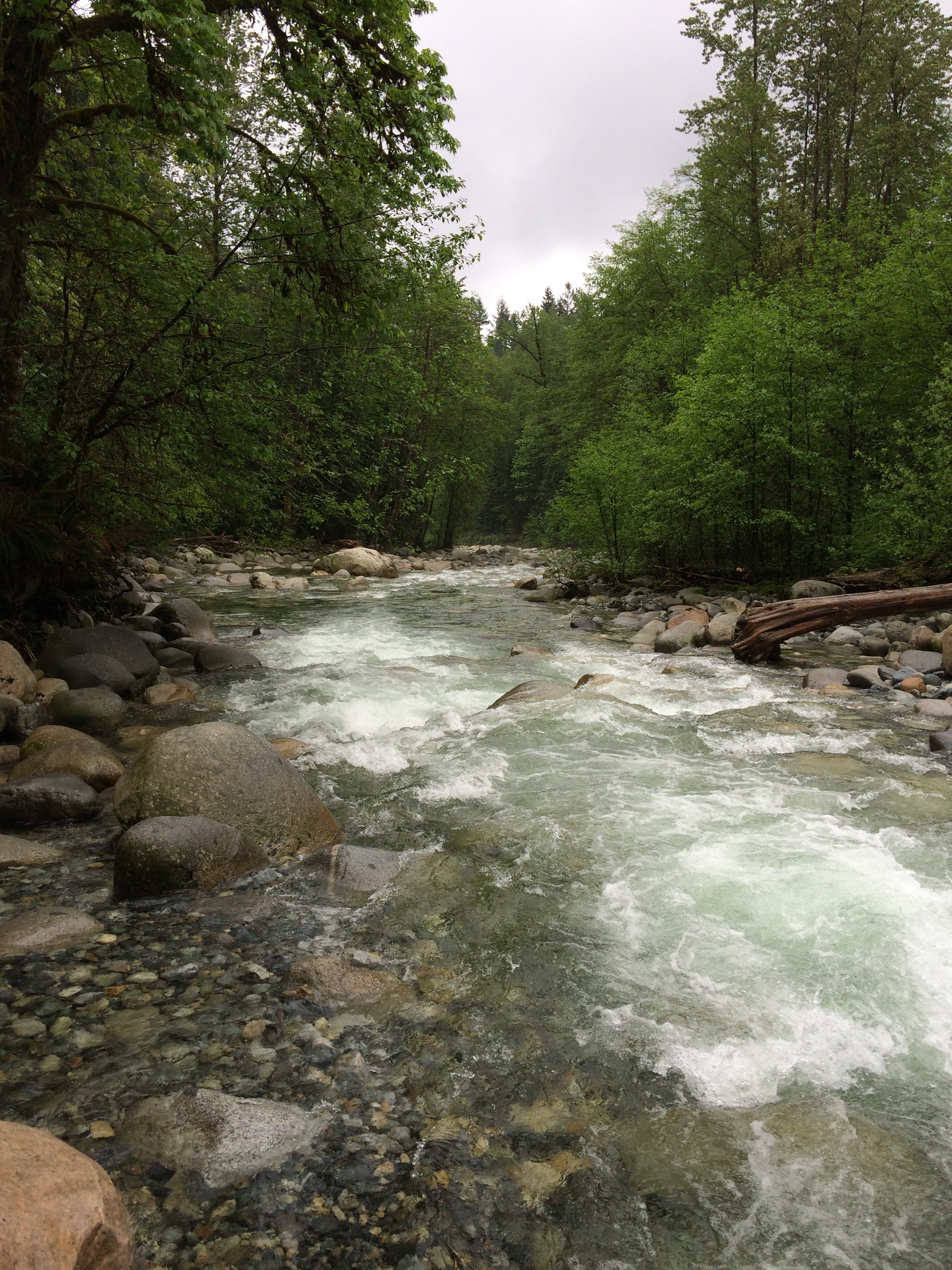 First Nations content
While I've spent a lot of time examining my relationships with First Nations content and people over the past year in my B. Ed. program, this course really gave me a fresh understanding and an earnest longing to want to incorporate more First Nations content into my practice. I've already been strongly impacted by the First Nations People's Principles of Learning, but being able to converse with Barb (one of our professors who is a resident of Haida Gwaii) and to learn about First Nations knowledge of their environment from our aboriginal guide at Fort Langley, as well as our various other guest speakers, I've really seen the benefits of incorporating First Nations content into my practice. My professional growth plan from the end of my practicum was to focus on incorporating more First Nations content, and to gain an increased knowledge of First Peoples ways of knowing; I'd say this course allowed me to further this goal greatly.
I've been particularly impacted by their knowledge of the local floral life and how each plant can mean/do different things for people. The photos above were taken at various sights and focus on the knowledge that I've gained about different plants from these aboriginal sources. While it would be too much to write in one session, some of my more memorable points of note (as well as one's I've found the most interesting) are:
Licorice Root: This root always brings me back to my childhood. Part of my early passions for environmental education were built off of hiking with my mother and sisters when I was really young. We'd always hunt for licorice root on the Broadleaf Maple trees around the forests we'd go to and suck on this root all day. It was interesting to learn more about how this root impacted First Nations people in the past; this deep connection between my childhood and First Nations ways of knowing expanded my want to search for First Nations knowledge.
Pella: a First nations game played using the sword fern. Pluck of a length of sword fern and take a deep breath. Now, pluck off a leaf and as you pluck, speak out "Pella". Rinse and repeat. See how many leaves you can pluck off before needing a new breath! This game is unique in that it would preoccupy aboriginal children throughout their hunts/walks, but also would provide valuable training for later years of hunting and swimming.
Oregon Grape: A particularly bitter fruit, but when eaten in jam it can be quite tasty. The important note on this fruit for me was its impact on the gall bladder and aiding in digestion with fatty foods. As my mother has issues with these, I've since made her some jam and she's been able to eat eggs again; something she hasn't done in over five years
Salmon Berries: I had always known these berries to be a delicious, but I had never known their tale. The time at which a salmon berry turns red will determine what type of salmon harvest will be had that year. If the berry turns red early in season, then the pink salmon will be a good harvest, and so on as the season goes on.
C.A.R.E FRAMEWORK
C.A.R.E. was an analytical framework for environmental education that we continued to refer back to throughout the course.
Complexity: Being continuously aware that issues of environmental education are increasingly complex. Even ideas that seem incredibly positive can prove to be more controversial than at first glance; ex. while recycling is an excellent idea and can be a step in the right direction, until we tackle the issue of our consumption culture, recycling can be perceived as simply 'spinning our wheels'
Aesthetics: Have children write a poem on nature inside of a classroom. Now, have them write a poem about nature after they've walked through a local forest; this will create a completely different outcome. Similar to lookout points, looking at a photo of the Stawamus Chief and then being on the top of the third peak are completely different experiences. Aesthetics are that natural 'hook' that get students interested in learning about the environment. One practice we did throughout the course was to simply walk through a forest quietly and look. Often we're so busy talking with one another that we forget to actually look at what is around us. Coming from a visual arts background, aesthetics really had a large impact on me to re-invigorating my passion for teaching about the environment.
Responsibility: This concept speaks to environmental stewardship and maintaining practices that are good mutual environmental and personal health
Ethics: As with everything though, we need to consider the ramifications of our actions. Where do we get our ethics from, and how do differing viewpoints on the environment shape our interactions with the environment?
Working through environmental ed, and being particularly stricken with the concept of aesthetics, I've found myself noticing more and becoming more interested in local events going on around me for the environment. During my time in this course I've gone to:
Stewartson farm to work with them in protecting their apple trees. They have over 40 types of heritage apples, and are trying some innovative ways to reduce pest buildup in their trees. We've bagged trees, put little 'socks' on each apple, coated some trees in pheromones, counted the different types of bugs on sticky apple traps, and even sprayed some trees down with a muddy/clay mixture.
A local watershed presentation, as well as setting up "anti-beaver" horse fencing around young seedlings that were planted to reduce the soil table degradation.
Assisted in the counting of invasive species in the Burrard Inlet